Fire!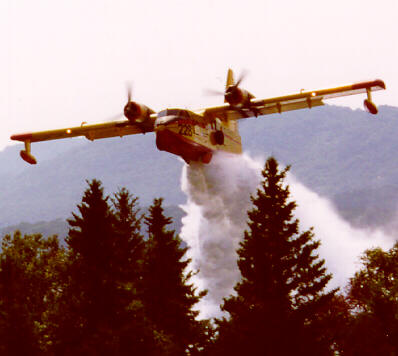 CL-215 at tree level on first run!
An alarm was turned in by Chris Goodfellow about 2pm Sunday afternoon, August 10, for a large forest fire burning on the north end of the Municipality of Arundel on the property of Yvan Provost adjacent to the Rouge River. According to Mr. Goodfellow, he had smelled smoke for three days and had even called his neighbour, Joan Evans on Thursday to ask if she could see anything from her hillside. She reported seeing burning at "the mill" across the River. Mr. Goodfellow's neighbours on "Pipe a Chagasso" also said they had smelled smoke for 2-3 days. It was only on Saturday afternoon that Mr. Goodfellow noticed the smoke accumulating in the low spot of the valley and visibility being affected that he and his friend Catherine Widgery jumped in the car to get to a higher spot to look for the fire.
"I realized the smoke was getting thicker and wasn't from very far away! As soon as I got up by Ron Hess' house on the 327, I saw the smoke. It wasn't just a plume but it was billowing so I knew the fire had taken a good hold. I turned right around and raced home and called 687-3388. It is the first time I have called the number and it was a little disconcerting to hear all the clicking on the line. At first I thought its not working, but then I realized it was dialing multiple numbers."
Debbie Graham answered and in seconds several others were on the line. The volunteer fire department responded within 15 minutes. Neil Swail called for the "Quebec Air Force" and a spotter plane was on the scene in minutes followed in about 45 minutes by a water bomber. The fire had gained a substantial foothold with over a hectare on fire and visible flames as conifers "torched". A substantial southerly breeze combined with the hot and dry conditions probably fanned the smoldering fire into full life. The fire was potentially very dangerous as it was on inaccessible terrain and building a considerable head of steam by the time the water bomber arrived. The water bomber made several passes with a less than 10 minute turn around between Bark lake and the fire site. It was great work by a co-ordinated team and the fire was suppressed within 2 hours of being called in. The firemen entered the site on foot for mopping up of hot spots and worked right through until nightfall. It is expected they will return Monday to continue their work making sure there is nothing left burning to flare up again.
Click on the thumbnail pictures to see larger images and user your browser "back" button to return here for more:

Smoke and Fire!


Waiting for the Bomber!

First Approach!


Opening Tanks at Treetop!

Second Run!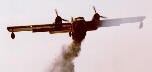 End of Run!

Climbing Out!

Wall of Water!

Arundel's Team!
Return to Arundel Page
Bombardier-Canadair CL-415 Page
For information or comments by e-mail
info@laurentian.com
These pages © by @laurentian.com 1997
---
update August 12 1997 21:30